SumUp
Accept card payments with SumUp with no fixed contract or monthly fees.
How digital accounting software can help you get paid faster and reduce admin
A study by CBI Insights found that running out of money was the primary reason for failure of 1 in 3 start-up businesses1 : a business that earns more than enough to cover its costs still needs to have enough money in the bank to pay suppliers when invoices are due to be paid.
With just a few steps you can keep yours healthy:
In this article we look at:
What steps can be taken to ensure you always have money in your business bank account improve your cash flow
The benefits of using digital tools to automate payment processes
Top tips for fast, efficient payments
Start with the basics
While an element of how and when you receive payments is out of your control and in the hands of your customers, there are some things that you can do to greatly improve your chances of being paid faster. Getting paid faster means more money in your account to pay your own employees and suppliers on time, and reduces the admin associated with chasing invoices. Pay particular attention to:
Payment terms: How long are you giving customers to pay you? Do you specify payment 45 days after invoice when many customers would agree to 30 days? By setting clear payment expectations in line with typical industry timeframes you are more likely to be paid more quickly. It's also worth looking at the payment terms you are agreeing to with suppliers. Can you arrange to make these payments later, giving you the leeway to ensure you are paid first by your customers before you make your own payments?
Late payments: Do you have an established process for chasing up late payments? If not, create one so that you know who you are chasing and when. You can use tools to set automatic reminders and to do this for you.
Repeat offenders: Are there any customers that routinely fail to pay you quickly and on-time for your services? If so, review who these customers are and act – this could mean arranging a face to face with them to understand how you could better solve this problem together. Or, this could mean taking the bold decision not to engage with them in the future. Either way, late payments must be called out and acted on.
Find the right support
You may currently be managing this all by yourself. But you don't have to. Managing your own books, sending and chasing invoices personally, and controlling the whole cash flow cycle yourself, might not be the best use of your time for your business no matter how attractive it looks in principle.
Automated accountancy software can take the legwork out of sending invoices and chasing payments. Many of the newer packages help you to turn quotes into invoices and send them instantly from your phone so you lose no time getting the invoice out. You can also set up automated payment reminders, customised accordingly so they feel personalised. By clearly outlining payment expectations from the start, automating processes and clearly communicating with your customer you increase the chances of you receiving the money faster.
Handing over your accountancy processes to a software package gives you an up-to-date accurate view of your businesses finances all from one place, allowing you to focus on running your business.
How accountancy software can help you focus on where you add most value
Take the legwork out of sending invoices and chasing payments with digital accounting software.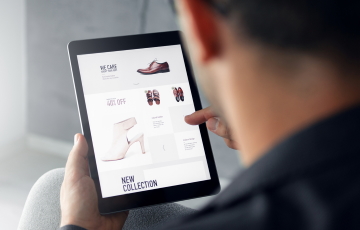 Online marketplaces: when setting up next to your competitors makes sense for your business
Read on for top tips on how to get up and running selling your products on online marketplaces.
Your guide to cloud
accounting software
There are a number of cloud-based accounting software packages that promise to be cost...

Toolkits, articles and recommendations are provided "AS IS" and intended for informational purposes only and should not be relied upon for operational, marketing, legal, technical, tax, financial or other advice. See here [https://www.visa.ie/legal.html] for further legal conditions in relation to your use of the Visa Digital Business Kit.
Digital services for you
Everything from building a website to organising your finances and getting paid.