PayPal
PayPal is for everyone. Allowing you to securely, conveniently and cost-effectively make payments online.

MINDBODY
MINDBODY is the fitness and wellness industry's leading technology platform.
Shopify
Shopify is a ecommerce platform, providing users with everything they need to start, run, and grow a business.
Online marketplaces: when setting up next to your competitors makes sense for your business
Marketplaces developed to gather people looking for similar products and services, think of your traditional fish markets by every port. Marketplaces have evolved into the online environment. Tapping into this ready-prepared funnel of potential customers can help your business to:
reach new customers
spend less money attracting new customers
take some of the effort out of selling online
So how do you make the most of the marketplace opportunity?
Choosing a marketplace
The first thing to do is choose which marketplace to list your products or services on. The number of online marketplaces grows each year so this is not necessarily a simple choice and there are a number of factors you should keep in mind when evaluating different marketplaces:
Quantity and quality of visitors. Some marketplaces aim to sell every type of product and service you can imagine; others focus on specific categories. The more focussed marketplaces will offer fewer potential customers but they may be more likely to buy from you.
Overall cost. Typically, marketplaces will charge a flat fee for listing your products, a percentage of any sales you make or a combination of the two.
Customer resolution policy. One of the functions of an online marketplace is to mediate in the case of a dispute between a buyer and a seller. Familiarise yourself with the policy of the marketplace you intend to list on as these policies differ and can be either more or less generous to the buyer or seller.


Branding opportunities. Some marketplaces offer more options for you to display elements of your brand to their customers. If you have a very distinctive or well-known brand, you should prioritise this when choosing a marketplace.
Making the most of your marketplace presence
Now you have the right marketplace for your business, the next step is making the most of it. As we said at the beginning of this post, the benefit of a marketplace is a steady flow of potential customers; the flip-side of that is that your products are listed alongside your competitors. So focus on what you need to do, to make sure you stand out.
Sell more by adding photography: more than four in every five people say that clear product images lead to a great online shopping experience2 . With this in mind, a small investment to make sure you have high-quality, professional-looking photos of your products will help you stand out from the crowd.
Don't ignore reviews: Reviews are also be key to helping you sell more, so make sure you encourage your best customers to leave a positive review. For more information on getting up and started with reviews, read our Q&A with Yell here.
Master the art of "tagging": Online marketplaces all have a search function which customers use to find your products. These search functions are usually based on "tags" – which are the labels you give to your products. The secret to picking good tags is to put yourself in the shoes of your customers: what words would they use to find your products?
Start small, test and learn: Getting your presence right in an online marketplace will take time, and the likelihood is you may not get it right first time. A good approach is to start small, with just a single product. This will give you enough time to ensure that you have the product and product description, specifications and photography needed, meaning that when your customers land on your business profile they will be even more tempted to buy your product.
The potential opportunities through selling on a marketplace are endless. If you haven't already, now is the time to get going with listing your products on online marketplaces, to remain competitive and grow your business.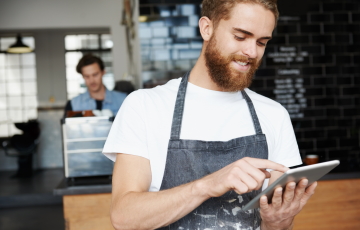 Don't battle with bookings: make online reservations work for you
Save your staff time and let your customers book your services, whenever, wherever they are.
Market my
business

Logos, websites, social and online advertising, promote online and offline & more tips

Your guide to cloud
accounting software
There are a number of cloud-based accounting software packages that promise to be cost...

Toolkits, articles and recommendations are provided "AS IS" and intended for informational purposes only and should not be relied upon for operational, marketing, legal, technical, tax, financial or other advice. See here [https://www.visa.ie/legal.html] for further legal conditions in relation to your use of the Visa Digital Business Kit.
Digital services for you
Everything from building a website to organising your finances and getting paid.