SumUp
Accept card payments with SumUp with no fixed contract or monthly fees.
Elavon
Take payments wherever and however your customers want to pay.
PayPal
PayPal is for everyone. Allowing you to securely, conveniently and cost-effectively make payments online.
Why contactless payments can mean growth for your restaurant
Contactless, or "tap to pay", payments are now well established in Ireland, with 78% of adults using contactless in Ireland for their everyday spendingi . With such strong take-up, people likely expect to tap to pay in your restaurant.
Moreover, contactless payments are quicker than Chip and PIN. This gives your staff more time to look after your customers, who have more time to eat, drink and enjoy being in your restaurant.
This article looks at concrete steps you can take to make the move from chip and PIN to contactless payments in your restaurant:
Check if your payment devices are already contactless compatible: Most newer payment devices can already accept contactless payments. If this is the case, all you will need to do is ask your payments provider to enable contactless payments for you. If you have older payment devices you may need to upgrade the devices themselves.


Make sure you can still accept tips. You can configure most contactless payment terminals to add tips. There are two basic models: either the customer adds their own tip or you can predefine set percentages. Which model you choose is really your choice – some businesses prefer to let their customers choose the level of tip they leave; others feel that a pre-determined percentage makes it easier for customers to leave a tip.


Train your staff. The move to contactless will save your wait staff time – to make the most of the move you will want to make sure that your staff are fully familiar with contactless payments. The key topics to cover are: the basics of taking contactless payments, contactless limits, how to revert to a chip and PIN payment if contactless is rejected, issuing receipts, managing refunds and taking tips.
Contactless payments help your customers spend more time enjoying their meal and your wait staff spend more time looking after your customers. And as we're starting to see, it's no longer a matter of 'if', but 'when'. So join the march by embracing contactless to help grow your business with faster service and reduced customer waiting times.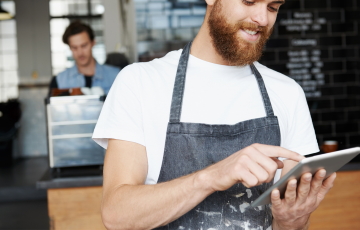 Don't battle with bookings: make online reservations work for you
Save your staff time and let your customers book your services, whenever, wherever they are.
Digital payments are the future of maintaining a healthy business
Digital payments could help you save time, gain control and future proof your business. Here's how: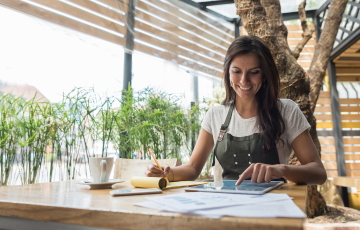 How digital accounting software can help you get paid faster and reduce admin
How accounting software can give you more time to focus on building your professional services business.
Toolkits, articles and recommendations are provided "AS IS" and intended for informational purposes only and should not be relied upon for operational, marketing, legal, technical, tax, financial or other advice. See here [https://www.visa.ie/legal.html] for further legal conditions in relation to your use of the Visa Digital Business Kit.
Digital services for you
Everything from building a website to organising your finances and getting paid.