Wix.com
Create a website and manage your brand with Wix. Sell products, get booked online and grow your business.
How to create an online presence with David Schwartz, VP Product, Wix

Having a website for your business will help you reach potential customers, deliver strong marketing messages and establish your brand. In this Q&A with David Schwartz, VP Product Wix, we cover:
How building a website can help you to grow your business
How to attract visitors to your website
How to find a website platform to help you build your website
Why should you consider creating a website?
A website makes it easier for you to manage and grow your business. Having a professional online presence adds credibility to your business and is an effective tool to communicate with your customers, promote your business and, eventually, take orders online.
What role should your website play in the way your customers interact with your business?
Your website is an extension of your offline presence, whether that is a shop, a salon or a restaurant. So you can use your website to provide more information than you could get from looking in the window. For example, you could consider adding a map to help your customers find your shop, or a simple way to book your services.
Sara Prior, owner of Cloud Nine Knits, a knitting and crochet workshop provider, uses her as a unified front for her business: she can easily manage bookings, invoices, ecommerce and online marketing all from her website. This lets her devote more time to her business strategy and maintain a nimble team.
How do you start to build a website?
In recent years, a number of services have launched to help small businesses get online quickly and easily with no technical knowledge. They walk you through the process of building a website, provide design templates to help you get started quickly and will "host" all of your content – pictures text and video – on their servers so your customers can always access your website.
One of these is WIX, which helps small businesses design and build high-quality websites. Whether you're promoting your business, showcasing your work, opening your store or starting a blog—you can do it all with Wix. The service allows you to pick a design template and customize parts which are special to you, or you can answer a few questions and get a free website designed just for you.
How do you ensure your business website can be found online?
To really reap the benefits of having a website, you will need to make sure you have plenty of people visiting it. The key to this is making sure it is easy to find your website using a search engine; this is known in the marketing industry as Search Engine Optimisation (or SEO).
Wix has a tool call SEO Wiz, which helps users quickly improve where their website is shown in search engine results. Users such as Industrial Jewellery rely on Google Analytics to check how many people are visiting their website, how they found the Industrial Jewellery website and which pages are attracting the most visitors. Through the Wix integration, it's easier to track site traffic right from a dashboard. This way they know more about their business funnel, traffic sources and top products.
Additionally, Industrial Jewellery learnt that creating different websites for different audiences can help to tailor messaging, inventory, and features to reach the right people. Owner, Hila Raved Karni, created two sites for her business: one for consumers and another for businesses– a wholesale website which enables its members to use the area to create a private shop for those buying in bulk.
So you have a website, you have visitors, what's next?
A website can be much, much more than a simple window into your business. As they get comfortable with their online presence, many companies start looking to see what else an online presence can give them. Can your website become a platform for communicating with customers? Or taking bookings online, even receiving payments?
For example, Bed and Breakfast owner and consultant, Caroline Nolder of B&B Doctor found that when she began to use Ascend by Wix, a suite of tools specifically designed for small businesses, she was able to provide a much more personalised, seamless customer experience. Caroline needed to communicate with her guests and wanted that experience to be as sophisticated and smooth as if they were communicating with a larger hotel chain.
She also wanted her website to reflect the same commitment to comfort and design as her B&B does. Knowing that her competitors are not just small hoteliers and B&Bs, but larger businesses, she needed a platform that would give her the latest technology features at a fraction of the investment. With the help of Wix she's been able to fulfill the needs of her B&B guests without having to restructure her budget.
How to sell online
Your online store, logistics, maintenance, social media and more…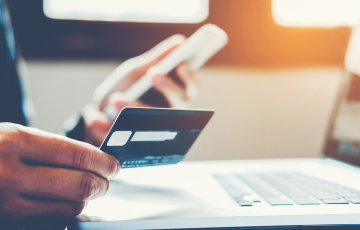 Turn browsers into buyers with a website makeover
Turn website browsers into buyers with these ideas for your online business.
How to get your business reviewed online
The importance of a good review is undeniable...
Toolkits, articles and recommendations are provided "AS IS" and intended for informational purposes only and should not be relied upon for operational, marketing, legal, technical, tax, financial or other advice. See here [https://www.visa.ie/legal.html] for further legal conditions in relation to your use of the Visa Digital Business Kit.
Digital services for you
Everything from building a website to organising your finances and getting paid.