Team Visa Day Kicks Off in San Francisco
Olympic and Paralympic hopefuls join Visa for a two-day summit and innovation showcase at the company's CA headquarters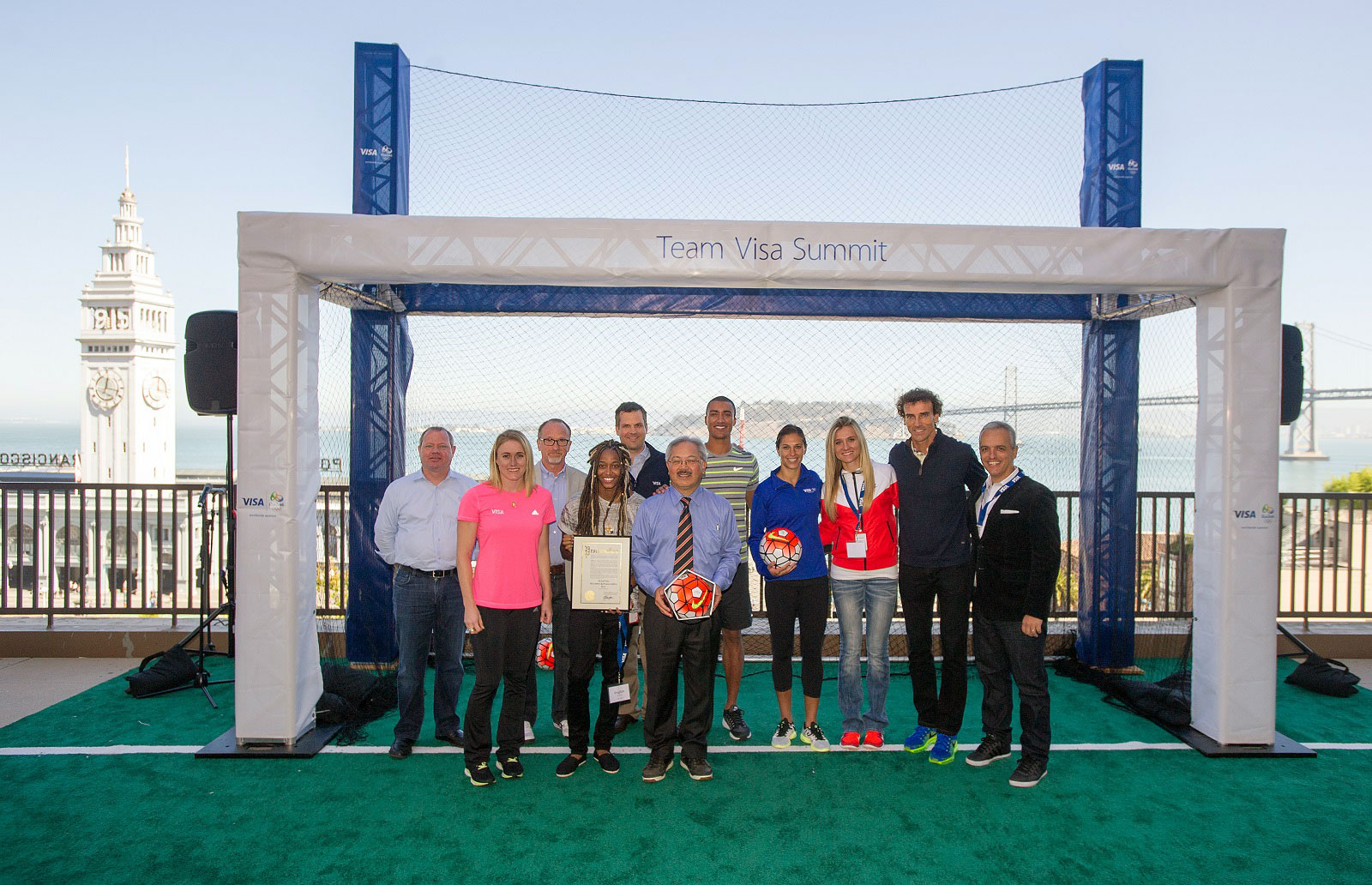 Members of Team Visa with San Francisco Mayor Ed Lee and Visa's Innovation Team
Let the Games begin: Carli Lloyd, World Cup Champion and Rio 2016 hopeful, challenged Mayor Ed Lee of San Francisco to a penalty shootout at Visa's downtown headquarters. It was all in good fun to celebrate Team Visa Day, where 25 Visa-sponsored Olympic and Paralympic athletes from 9 countries gathered for a two-day summit to get in the Olympic team spirit.
At the event, Team Visa athletes met with media partners, including playful interviews with teen members of the Girl Scouts of America, and experienced first-hand payment technologies that will improve the customer experience at the Rio Olympics. To mark the occasion, Mayor Lee and representatives of the International Olympic Committee declared September 23rd "Team Visa Olympic and Paralympic Day" in San Francisco.
Mayor Ed Lee declares September 23rd Team Visa Day in San Francisco, pictured here with World Cup Champion Carli Lloyd (USA) and Chris Curtin, Visa's Chief Brand and Innovation Officer
Clients, including Samsung, joined Visa's innovation experts for a Sports & Technology panel to discuss innovative payment technologies like chip card, Visa Checkout and Samsung Pay as well as emerging innovations, such as biometrics (a hand wave to pay for coffee, for example) and wearables—technologies that will not only advance the payment experience, but also help athletes with training and performance monitoring as they prepare for the Olympic Games.
While sponsoring the athletes during the one-year Team Visa program, Visa positions itself at the intersection of technology and sports, bringing mobile payment innovation to the Olympic stage. "The Rio 2016 Olympic Games will feature the latest technology and payment innovations that will enhance the Olympic experience for athletes, fans, cardholders and clients," said Jim McCarthy, executive vice president of innovation and strategic partnerships at Visa.
The Girl Scouts of America also invited six of its most tech-savvy members to interview Team Visa athletes about their favorite sport and act as social media ambassadors throughout the day.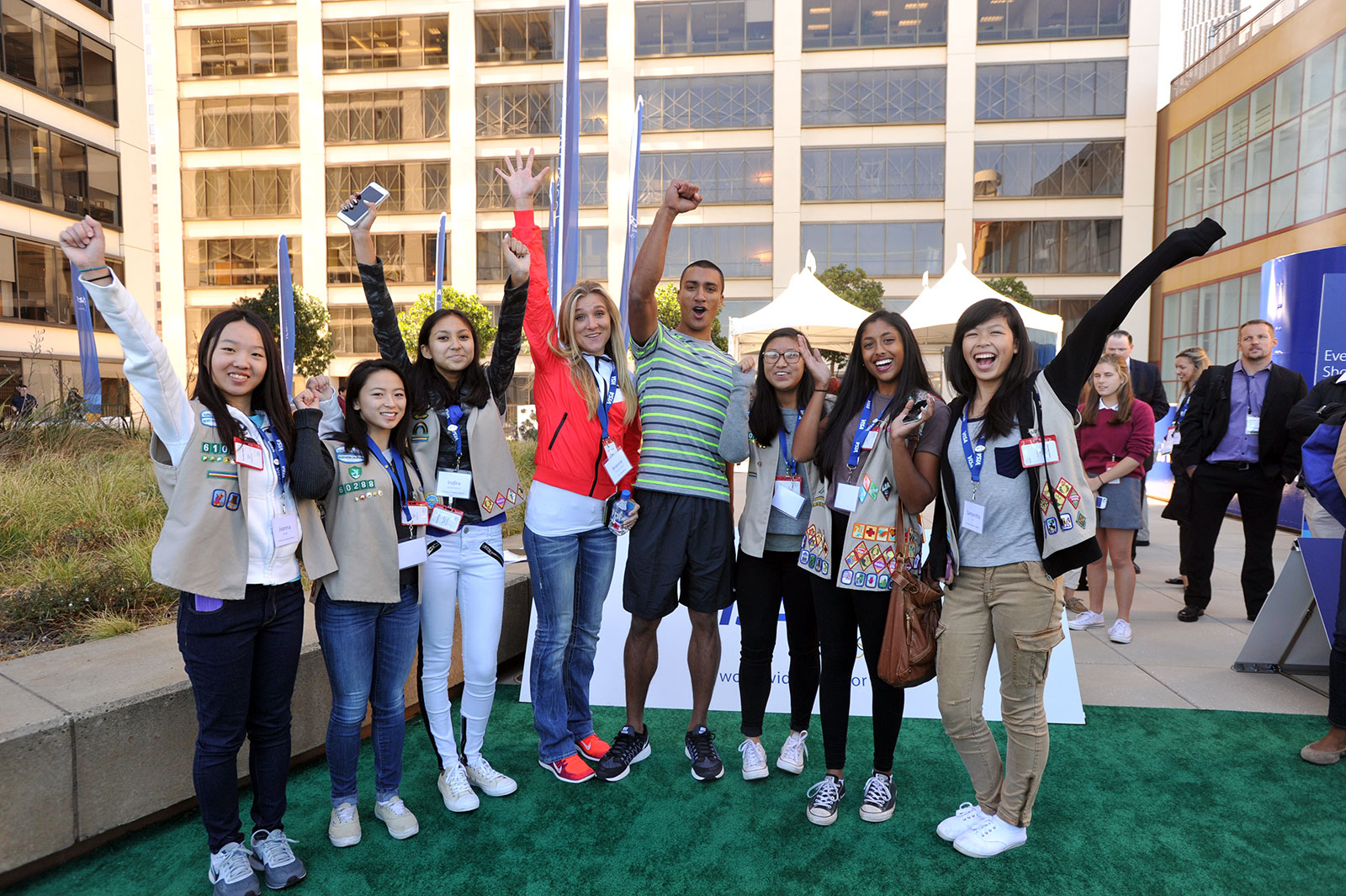 Girl Scouts of America members cheer along with Rio hopeful Brianne Theisen-Eaton (CAN) and her husband, Decathlon World Record holder Ashton Eaton (USA)
In 2016, Visa will celebrate 30 years as a Worldwide Partner of the Olympic Games, which has included sponsorship of more than 300 athletes through the Team Visa program. Team Visa athletes are chosen based on their personal journey to the Olympic and Paralympics Games, their athletic achievements, and their community involvement.
"I'm excited to join Team Visa and the more than 30 other world-class athletes as we prepare for Rio 2016," said Lloyd, who won the day's shootout. "For me, the support I receive from my fiancé, friends, coaches, teammates and sponsors, like Visa, is critical to my success and I'm so thankful that it has allowed me to pursue my goals."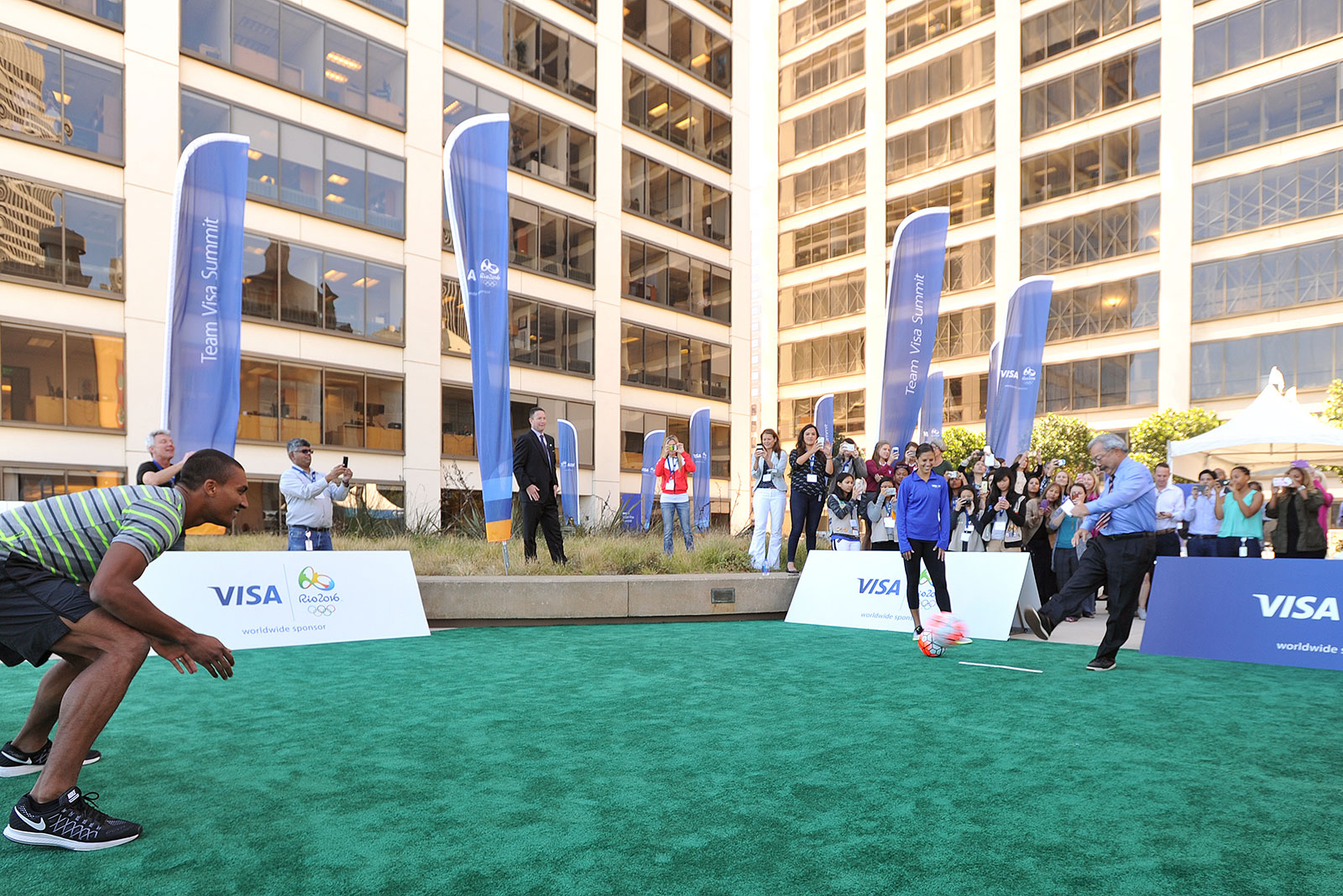 A good sport: Mayor Ed Lee takes the first kick, which is ultimately blocked by Eaton, as fellow Team Visa athlete Carli Lloyd looks on