Payments take center stage in the new digital economy
Visa's President Ryan McInerney discusses the future of payments at a Consumer Banker's Association event.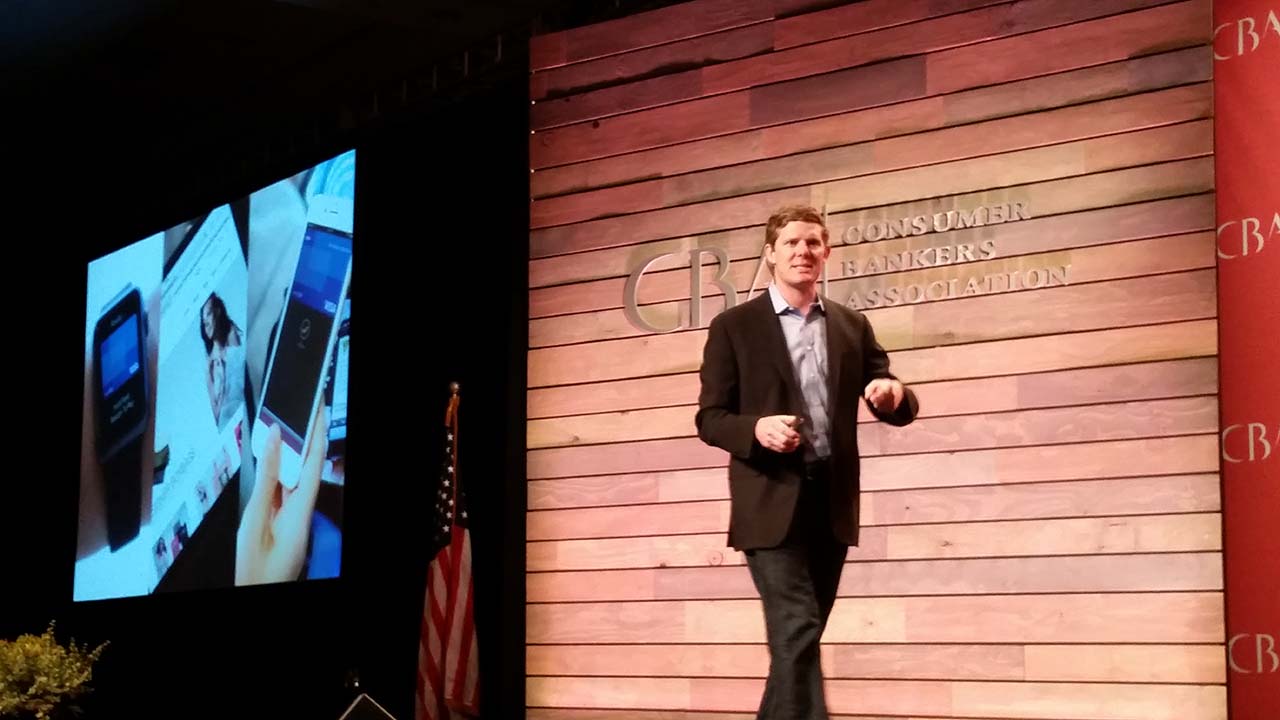 As bank customers' wants and needs shift from checking accounts and physical cards to digital payments, Visa can help banks strengthen and deepen customer relationships in the mobile-driven digital world. Visa's President Ryan McInerney shared what Visa has learned about this shift at CBA Live, an event held by the Consumer Banker's Association, in Phoenix on March 8.
"Many of us grew up in the retail banking business learning one thing that was more important than anything: checking accounts. Checking accounts were everything—the basis for the entire customer relationship," McInerney said during his presentation. "The reason was simple—if you were the bank that provided a customer's primary checking account, you were their primary financial institution, and they would come to you for the rest of their financial needs."
Over time, credit cards became more important to customers and debit cards became an extension of the account, but the checking account still remained the anchor.
"But two important things have changed, which leads me to offer the premise that payments are the new checking account for retail banking," he added. The first is that people today open checking accounts to obtain a debit card. Second, physical debit and credit cards are becoming less important. "Even the debit card is now a means to an end, with the end being digital payments."
Digital disruption
Bank customers, on average, make dozens of payments each week, and increasingly these payments are digital and potentially mobile, noted McInerney.
"Mobile is relatively new to many of us, but for a whole generation it's the center of their lives. They consume everything wirelessly and on that screen," McInerney said, referring to a mobile device. "With tens of billions of connected devices, the point of sale is literally everywhere: our phones, our jewelry, our cars and our appliances."
McInerney said the industry used to be concerned with being "top of wallet," meaning companies and banks would design promotions and products that would ensure their card was the one customers pulled from their wallet the most often. Increasingly, though, there isn't even a wallet anymore.
"Top of wallet is giving way to top of merchant, top of phone and top of device," he said. "In this environment, competitors are working feverishly to insert themselves into the payment flow—and ultimately your customer relationship. Providing a customer's checking account no longer necessarily means that you provide their payment —and payments are becoming increasingly more important, complicated and disruptive."
To meet the challenge, banks have the ability to continue to "own payments" and use payments as a way to strengthen and deepen customer relationships, but they need to focus on new products and capabilities, getting to market quickly and new partnerships that can help make it happen.
How Visa has changed
McInerney then emphasized what Visa has learned over the last few years about the digital world and how the company can help their banking partners.
"We have thousands of people who come into work every day focused on ensuring that our bank clients thrive in this increasingly digital environment—that is, focused on constantly innovating and developing the best payment solutions for our banks," he said.
One important factor is ease of use. "We need to make it much, much, much easier for people to buy things on a mobile device with their Visa card. It is simply too hard today," he said.
He then explained what Visa has learned through Visa Checkout.
"About two years ago we started with a clean sheet of paper and set out to create the simplest, easiest and safest way to make digital purchases, while protecting and enhancing your brand, and that is the ultimate goal with Visa Checkout." He then gave a sneak preview of the new experience for Visa Checkout announced in Austin, which makes mobile payments even simpler with the swipe of your finger. He also discussed Visa's recent moves to drive more collaboration with outside partners, including the Visa Developer Platform as well as new collaboration centers where "we work side by side with banks—our engineers and yours—to develop, test, design and launch new products in weeks versus months or quarters."
This partnership between Visa and banks is meant to help both thrive in the new digital economy. "Our partnerships with all of you are incredibly important to us at Visa. Our business is completely dependent on you all wanting to do business with us and issue Visa cards," McInerney concluded. "We are completely committed to doing everything we can to help you thrive in this environment."