Ireland welcomes She's Next, Empowered by Visa
As part of Visa's mission to champion small businesses, She's Next, Empowered by Visa aims to support their recovery and provide women-owned SMEs with a much-needed boost.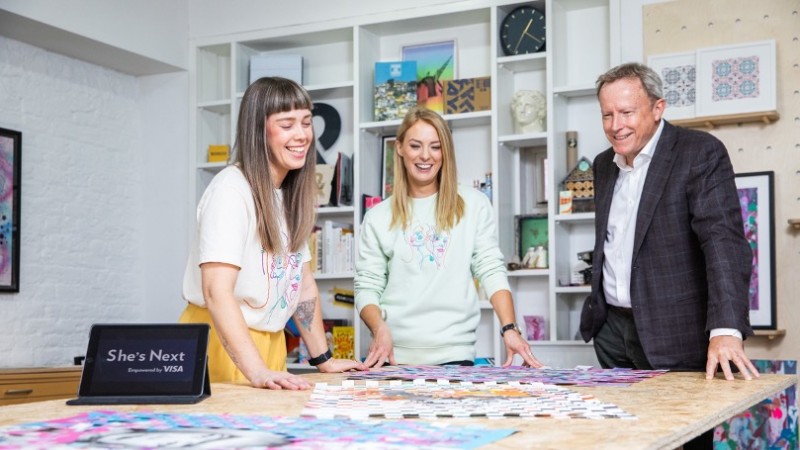 Small businesses are the backbone of our economy. They are Ireland's biggest employers and job creators accounting for 99.8% of private business enterprises and employing more than 1.06 million people1.
The last 18 months have been a challenge for many small and independent businesses. Additionally, Visa research2 has found that those led by women have been disproportionately affected by the pandemic, with the majority (55%) of women business owners surveyed calling the last year 'a challenge', compared to 52% of men business owners surveyed who called it 'an opportunity'. And, with Ireland reporting3 the highest gender gap for self-employment in Europe, we, at Visa, believe there is a big opportunity to change the status quo and help women entrepreneurs reach their full potential.
That is why we're delighted to launch She's Next, Empowered by Visa in Ireland - committing to help women founded businesses access the tools, resources and support to run, fund and grow their business.
In partnership with the go-to funding marketplace for women-owned businesses, IFundWomen, the She's Next programme will offer five women-owned small businesses in Ireland the chance to win one of five €5,000 grants, together with coaching and mentorship for a year. Applications are open until 2 November 2021, and with one simple application form, it's simple to apply to the programme4.
Launching for the first time in Europe, Ireland's She's Next programme will follow a number of similar successful programmes for women entrepreneurs in the US, Canada and India. In fact, since March 2020, She's Next, Empowered by Visa has awarded more than €1.25 million in grants and coaching scholarships to women entrepreneurs across the globe.  
The She's Next Grant Programme allows us to spotlight and address the many challenges faced by women entrepreneurs in Ireland and tackle the gender imbalance that still exists in early entrepreneurship. By standing behind women-owned businesses and providing a much-needed boost, we can help them reach their full potential and make their next move.
For more information on how to get involved, visit Visa.ie/ShesNext.
---
1ISME 2021: Significance of the SME Sector in the Irish Economy
2 Visa - Wakefield Back to Business 2021. The fifth edition of the Visa Back to Business Study was conducted by Wakefield Research between June 15 and June 28, 2021, among 2,250 small business owners at companies with 100 employees or fewer in each of the following markets: Brazil, Canada, Germany, Hong Kong, Ireland, Russia, Singapore, United Arab Emirates and United States
3 Enterprise Ireland 2020 Action Plan for Women in Business
4 Terms and conditions apply.