6 top tips to help you shop safely online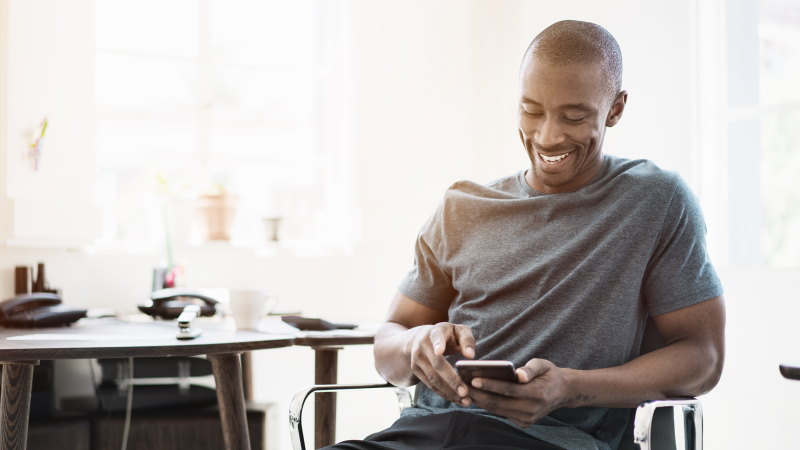 As a nation, we're shopping more online than ever before. And it's no surprise given how easy and convenient it is. In just a few clicks, you can order a takeaway, do the weekly food shop, or pick up a new pair of jeans, and all from the comfort of your own home.
This trend shows no signs of slowing down. In fact, over half1 of Irish consumers surveyed say that they are buying online wherever possible.
As more of us pay for goods and services online, it's important to make sure we're doing so safely. At Visa we work hard with banks across Ireland to keep every Visa card payment secure – using multiple layers of security to prevent fraud, protect your data and help you get your money back if someone uses your card without your permission.
But there are also a few simple things we can all do to stay secure when shopping online:
Use a safe and easy way to identify yourself: If it's an option, set up identification methods like fingerprints or facial recognition on your phones and within your banking apps. This will give you a quick, easy, and safe way to prove it's you that's making the payment.

You may have recently noticed that when shopping online you are now asked for extra identification. This is because of a new European regulation to ensure the payment is coming from you, and not from a fraudster – so your payments are even safer!
 
Look for the "s": When paying online, look for the padlock icon when browsing and check the URL to ensure it begins with "https://". The "s" at the end indicates a secure connection. Additionally, check that the web page address doesn't contain spelling errors or strange characters.
 
Be on the alert – Check your statements regularly for any unusual or suspicious transactions, be mindful of publicly sharing information that identifies you - like your address - and never share your PINs or passwords with anyone. Tell your bank if you spot unusual payments that you do not think you've made – Visa has a "zero liability" policy that may help you get your money back if someone else has fraudulently used your card.
 
Beware of phishing scams: Be careful of unsolicited and suspicious emails or phone calls from those trying to steal personal information like your account number, username and password. Most financial institutions would never request financial information from you out of the blue, so avoid clicking on any links or downloading any files sent to you in a text or email.


Use "tokens" and one-click services to pay safely and easily – When you load your card into your phone, and when you load it into some merchant apps, your card data is often replaced by a digital "token" – meaning your card details aren't stored, keeping them even safer. With some shops you can use one-click-payments which means you just need to set it up, prove you are the right cardholder, and then you can shop online easily without the need to insert your card details every time.


Update system and application software – Install the latest software on your computer, tablet or phone. Technology companies work hard to keep you safe – updating your software helps them to protect you from vulnerabilities.
If you're paying with Visa you can feel confident you are paying securely. But remember, even if something does go wrong and you spot an unusual transaction on your account, you could be protected by Visa's Zero Liability policy. Just give your bank a call and explain the situation – they can often help you claim your money back.
Click the link to see the tips in our infographic.
---
1 The Visa Back to Business Study - 2021 Outlook
The Visa Back to Business study was conducted by Wakefield Research between November 13 and November 25, 2020, among 500 adults aged 18+ in Ireland. 1,000 adults were surveyed in the US and a further 500 in six other markets: Brazil, Canada, Germany, Hong Kong, Singapore and UAE. The data was weighted to ensure an accurate representation of adults aged 18+ in each country. A copy of the global report is available here.
Examples, research and recommendations are provided "AS IS" and intended for informational purposes only and should not be relied upon for operational, marketing, legal, technical, tax, financial or other advice. Visa Inc. does not make any warranty or representation as to the completeness or accuracy of the Information within this document, nor assume any liability or responsibility that may result from reliance on such Information. The Information contained herein is not intended as legal advice, and readers are encouraged to seek the advice of a competent legal professional where such advice is required.