Protected when you pay by card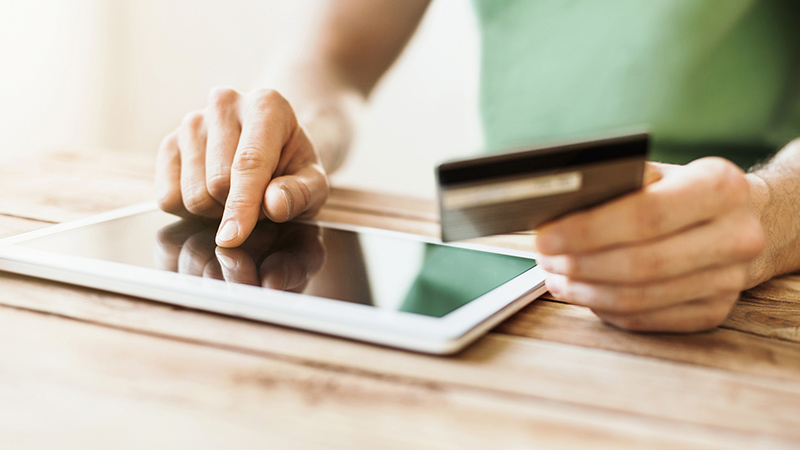 Every day more and more of us are shopping online from home. Increasingly, we're bringing the outside in: streaming a film rather than going to the cinema, doing the weekly shop from the comfort of our sofas, and bringing restaurant meals to the dining table with food delivery services. So it's important we do so safely.
One advantage of paying with your debit or credit card is that it may protect you when something goes wrong.
As part of Visa's commitment to consumer protection, we have an established process for banks that can help you get your money back when you haven't received the goods or services you've paid for using your Visa cards.
 Examples of this could be when you've made an online purchase and been sent the wrong product and can't return it. Or, perhaps – as every holidaymaker fears – your flight is cancelled at the last minute as an airline goes into administration.
The first step in such situations is to contact the merchant, retailer, or tour operator you made the purchase from to understand whether you are covered by a bonding authority or insurance scheme. If you're not fully covered, and only partial or no compensation will be paid through this route, you can then speak to the bank that issued your card to look at more options.
What is a chargeback?
A chargeback (otherwise known as a dispute) is a way for the bank that issued your card to reclaim money from the retailer's bank when you do not get the goods or services you paid for, including if the retailer or supplier has gone out of business.
Chargebacks are not a legal right, but if you have paid on a Visa debit or credit card, you should address a chargeback claim to the bank that issued your card, and they can then put in a request to the retailer's bank. The process for managing these claims is determined by the Visa rules (rules we set out for financial institutions who want to issue or accept Visa to help us maintain a fair and high standard of service). While there is no guarantee that your bank will be able to recover the money through chargeback, they will assess your claim fairly.
With a chargeback, the value claimed cannot exceed the value of the original transaction. Where a partial refund has already been made, any chargeback will only cover the remaining amount of the original transaction.
It can be tough when plans are cancelled, or when you aren't delivered the product or service you believe you were promised. Visa's chargeback protections could offer some help and peace of mind.
Examples, research and recommendations are provided "AS IS" and intended for informational purposes only and should not be relied upon for operational, marketing, legal, technical, tax, financial or other advice. Visa Inc. does not make any warranty or representation as to the completeness or accuracy of the Information within this document, nor assume any liability or responsibility that may result from reliance on such Information. The Information contained herein is not intended as legal advice, and readers are encouraged to seek the advice of a competent legal professional where such advice is required.